MMA DVD News
Jon Trenge is back!

Jon Trenge (3 x NCAA All American Wrestler) is back with his new training DVD "Rock Solid."

The Rock Solid wrestling program is the latest training program to make sizeable improvements in your wrestling ability.

"Rock Solid" contains core wrestling technique and strategy from top notch wrestler Jon Trenge. In this course Jon has combined 2 programs.

1st: there is the 6 building blocks of wrestlers. These are the six skill sets and techniques that every wrestler needs to be good at to dominate on the mat.

2nd: is Jon's high percentage leg attack system. This is Jon's complete program on single and double leg attacks. Various types of attacks, as well as counters and setups are also covered here. Jon shares an unprecedented look into the world of takedowns, and focuses on how to dominate your opponent with wrestling.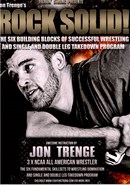 MMA Vault's service allows you to rent as many MMA DVDs as you like within a month. You can have between 2-8 DVDs in your possession at any one time depending on the plan you choose. The number of MMA DVDs you rent depends on how quickly you watch and return them or MMA Vault offers rent-per-title MMA DVDs. Your rentals will arrive in 2-5 days and you will have 7 days to view your rentals. Then just return them by mail on or before the Return-By-Date printed on the mailer. The Return-By-Date will also be listed on your Account page. There is a maximum of 6 MMA DVD titles that can be rented at a time.

Back