MMA DVD News
Ryan Hall Brazilian Jiu-Jitsu Instructional DVD's Now Available for Rent at MMAVault.

The world's most active submission grappling competitor since the year 2006, Ryan Hall has competed with great success at the local, national, and international levels. Since beginning his competitive career in July of 2004, Ryan has cemented himself as one of the most successful up-and-coming submission grapplers in the world, defeating some of the sport's greatest champions along the way (including UFC fighters and Black Belt World Champions, many of whom have been training decades longer than he has). Ryan is a CBJJ Mundial (world) and European champion who has also medalled at the Brazilian Nationals and twice been invited to compete at the ultra-prestigious Abu Dhabi Submission Wrestling World Championship where he is one of only a handful of American competitors to have come home with a medal. http://5050bjj.com/instructors

Fifty/50 Guard with Ryan Hall
The most highly anticipated DVD series in years, the 50/50 guard with Ryan Hall! This new guard position is so effective and dangerous to its unsuspecting opponent's, that many competitions are now considering banning it all together! Ryan Hall, one of the most active and successful Jiu-Jitsu competitors in the world has used this amazing position to defeat more opponents then anyone including Jiu-Jitsu Black Belts, UFC fighters and more. Ryan's detail and instruction on the 50/50 guard is so clear and organized that beginners and advanced students alike will be able to easily learn how to obtain and finish from this position. Ryan brings his many years of using this position to DVD by covering many common mistakes, details on control and theory and countless ways to finish. This is a typical WMA production that covers even the smallest details and follows an effective progression to master this devastating position.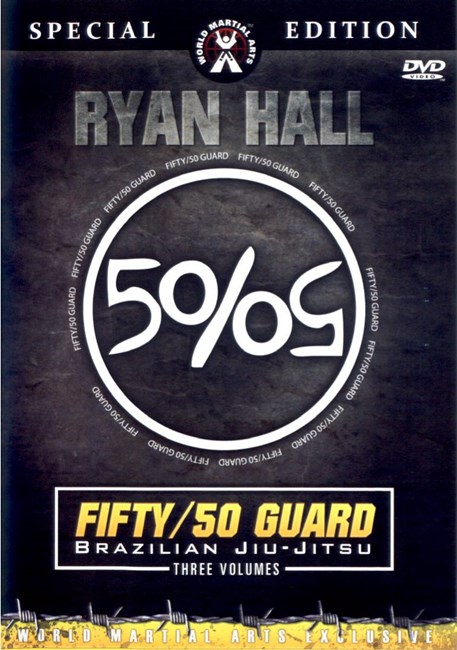 Triangle with Ryan Hall
With over 200 triangle submissions in competition, Ryan Hall has proven himself to be one of the most successful and influential competitors using the triangle today. His unique and practical approach to teaching the triangle has gained him world-wide recognition as one of the leading teachers on the subject. This new DVD series by Ryan Hall breaks wide open the secrets of his Triangle success with over 4 hours of step by step instruction and nearly 50 techniques.

Back