Total Grappling Vale Tudo Scapes by Manu
(11)
| | |
| --- | --- |
| | Get it with a Free Trial! |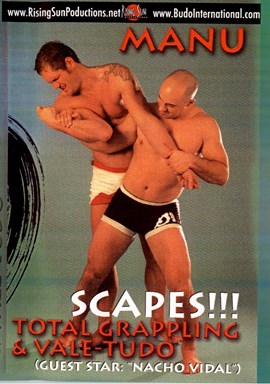 Description: This fourth and awaited DVD from Manu centers around the submissions and the ways of escaping, some of them unknown by many of you and others very common, though realized from different positions, such as, for example, a Kimura from the Mounted or even rear, being underneath the Mounted in cross. Accompanied by a first-rate helper, Nacho Vidal and with ample training in Jiu-Jitsu with the Gracie and Vale-Tudo and Muay Thai with Artur Mariano-Manu shows us the secrets of a good fighter: timing, fluidity and adaptation to each combat situation.
Fighters
Instructor
Category
Duration (approximate)

Artur Mariano-Manu

57 minutes

Date Added:
07/07/2011
Production Year:
Format:
DVD-ROM
There are currently no member reviews. Be the first to review this title.