Ultimate Krav Maga Self Defense Instructional 04
(12)
| | |
| --- | --- |
| | Get it with a Free Trial! |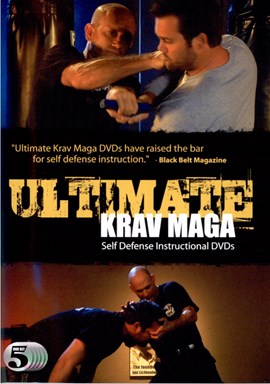 Description: The 'Ultimate Krav Maga' DVDs feature some of the best Krav Maga instructors from around the world including: Guest Instructors John Whitman from Los Angeles, California; Amnon Darsa and Special Guest Instructor Eyal Yanilov from Israel. You will learn: practical self defense techniques against weapons, holds, grabs and how to deal with multiple attackers standing or on the ground, plus much more. Learn what Law Enforcement officers and Military units from around the world are using to help save their lives on the street and on the battlefield.

NO RINGS. NO RULES. NO BULL.

DVD 4: 'Surviving Deadly Weapons' (Defenses against hand guns, long guns, knives and clubbing weapons)

DVD Special Features: Hostage Gun/Knife techniques - Aggression/Pressure drills - Full interviews with Eyal Yanilov and John Whitman - About the founder Imi Lichtenfeld.
Fighters
Instructor
Category
Duration (approximate)

76 minutes

Date Added:
05/10/2011
Production Year:
2010
Format:
DVD
There are currently no member reviews. Be the first to review this title.