Principles of Aiki Series Vol. 3 (Disc 02)
(7)
| | |
| --- | --- |
| | Get it with a Free Trial! |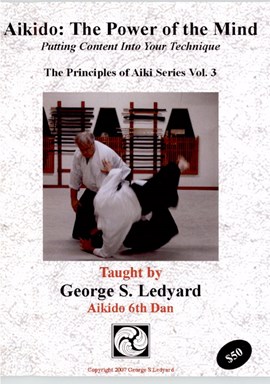 Description: The third in the "Principles of Aiki" Series ("2005 Principles of Aiki" and "2006 - Entries"). This 3 DVD set focuses on the issue of "ki musubi" or mental connection, in executing technique with "aiki".

Filmed in San Antonio in 2007, this is a very specific, how to instructional set rather than merely a demonstration set with little specific instruction. Every aspect of how to project ones attention, where to place it, the importance of proper placement of the Mind in technique, etc is covered. Special emphasis on proper body mechanics as a pre-requisite for projecting ones energy to the partner is contained in this footage. For anyone interested in understanding how to make the next big jump in levels in his or her technique, taking that technique well past the merely physical and giving it real content, this set should prove invaluable. Over seven hours of instruction including a segment on how to do sword work with "aiki".
Fighters
Instructor
Category
Duration (approximate)

George Ledyard

153 minutes

Date Added:
01/10/2011
Production Year:
2007
Format:
DVD-ROM
There are currently no member reviews. Be the first to review this title.