Aiki and Connection (Disc 02)
(10)
| | |
| --- | --- |
| | Get it with a Free Trial! |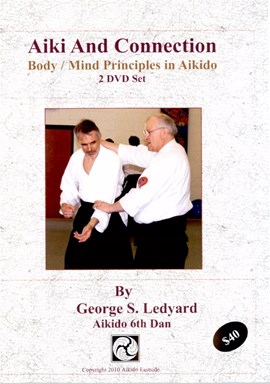 Description: This two disc set offers a body centered, principle based "how to" explanation of the essential elements of performing technique with "Aiki" rather than mere muscular force. For the student of Aikido who aspires to attain the kind of effortless, relaxed, yet powerful technique exhibited by teachers such as the late Yamaguchi Seigo, Mitsugi Saotome, Hiroshi Ikeda, or Endo Seishiro this newly released 2 disc set is a good place to start. After working through this material, a student attending a seminar with any of these great teachers will be far better able to benefit from the experience and take his or her Aikido to a higher level. This is an instructional set on the principles that are contained in all Aikido techniques and is not specific to any particular style.
Fighters
Instructor
Category
Duration (approximate)

George Ledyard

63 minutes

Date Added:
01/10/2011
Production Year:
2010
Format:
DVD-ROM
There are currently no member reviews. Be the first to review this title.