Mario Sperry Vale-Tudo Series 2 (Disc 02)
(14)
| | |
| --- | --- |
| | Get it with a Free Trial! |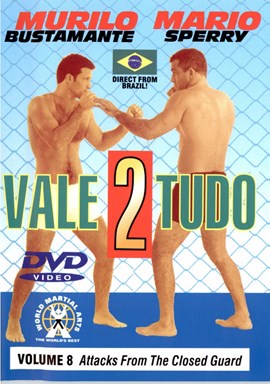 Description: This is the complete 6 DVD set of Mario Sperry Vale-Tudo Series 2. Mario Sperry's first Vale Tudo series have become mandatory DVDs for anyone looking to win a street fight or conquer the Octagon. Mario Sperry now returns in Vale-Tudo Video Series 2 to add even more great techniques to your No Holds Barred and Mixed Martial Arts arsenal. In order to deliver even a higher level of Vale-Tudo techniques, Mario Sperry brings in legendary teammate, Murilo Bustamante, to make Vale-Tudo 2 that much better! Together, they break new ground with more incredible techniques and strategies! This new series is 100% no holds barred and contains no overlap with his first Vale-Tudo six DVD set.

VOLUME 8: Attacks from the Closed Guard

This super hot DVD brings fighting from the guard to a whole new level. Learn to attack safely, and apply advanced armbars and chokes without getting hit, that will catch your opponents off guard when fighting vale tudo. Learn special turnovers that work against striking opponents that lead to devastating spine and neck submissions. This DVD is loaded with new material! If you liked Mario Sperry's first guard DVD, you will really love this one!
Fighters
Instructor
Category
Duration (approximate)

Mario Sperry

54 minutes

Date Added:
12/12/2010
Production Year:
2005
Format:
DVD
There are currently no member reviews. Be the first to review this title.