Mario Sperry Vale-Tudo Series 2 (Disc 01)
(13)
| | |
| --- | --- |
| | Get it with a Free Trial! |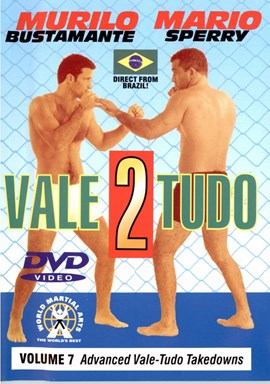 Description: This is the complete 6 DVD set of Mario Sperry Vale-Tudo Series 2. Mario Sperry's first Vale Tudo series have become mandatory DVDs for anyone looking to win a street fight or conquer the Octagon. Mario Sperry now returns in Vale-Tudo Video Series 2 to add even more great techniques to your No Holds Barred and Mixed Martial Arts arsenal. In order to deliver even a higher level of Vale-Tudo techniques, Mario Sperry brings in legendary teammate, Murilo Bustamante, to make Vale-Tudo 2 that much better! Together, they break new ground with more incredible techniques and strategies! This new series is 100% no holds barred and contains no overlap with his first Vale-Tudo six DVD set.

VOLUME 7: Advanced Takedowns

Here, Mario Sperry and Murilo Bustamante break the standing fight game down even further. Special punching techniques developed by these two masters allow them to enter into a takedown without getting hit in a vale-tudo match. Mario Sperry breaks these techniques down showing what and what not to do if you face a strong striker. Next, you will learn special techniques for taking down strong wrestlers or experienced fighters that refuse to hit the ground in Vale-Tudo. Mario Sperry also covers more ways to smash opponents that want to hang onto an octagon type fence. Great material! Next, Mario Sperry teaches how to get your opponent?s back while standing and teaches multiple advanced methods of punishing and bringing them down! Many, many new take downs and strategies in this DVD.
Fighters
Instructor
Category
Duration (approximate)

Mario Sperry

54 minutes

Date Added:
12/12/2010
Production Year:
2005
Format:
DVD
There are currently no member reviews. Be the first to review this title.