NeWaza Judo Ground Fighting by Mike Swain (Disc 2)
(18)
| | |
| --- | --- |
| | Get it with a Free Trial! |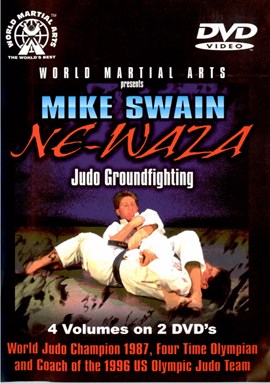 Description: NeWaza Judo Ground Fighting DVDs are the most advanced action packed Judo instructional videos ever produced. You will learn world class judo grappling techniques and training secrets, many never before seen on video from World Champion Mike Swain! Whether you're a judo player, Jiu-Jitsu practitioner or a serious ground fighter, you can now learn effective ground fighting and submission skills from one of the world's all time greatest. These Judo DVDs are guaranteed to be the most advanced and detailed work on NeWaza Judo ever produced!These are region free DVDs that will work anywere in the world.

VOLUME 3: Judo Ground Fighting Volume 2

More advanced judo ground fighting. Covers fighting from the bottom or the guard position. Learn extremely advanced sweeps, reversals and passing the guard. Mike Swain also shows you his world champion Judo ground-training drills, never before seen on video. These awesome drills are guaranteed to improve your grappling skills!

VOLUME 4: The Ultimate Judo Armbar Video

The ultimate armbar video! Mike Swain shows his world famous armbars in the most advanced and detailed instructional video ever produced. Learn how to easily obtain an armbar on your most stubborn or strongest grappling opponents! Even highly advanced Judo or Jiu-Jitsu practitioners will greatly improve their technique with this awesome video.
Fighters
Instructor
Category
Duration (approximate)

Mike Swain

48 minutes

Date Added:
12/12/2010
Production Year:
2005
Format:
DVD
There are currently no member reviews. Be the first to review this title.