Brazlilian Jiu-Jitsu by Pedro Carvalho 1 (Disc 02)
(6)
| | |
| --- | --- |
| | Get it with a Free Trial! |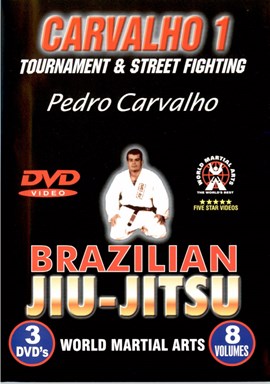 Description: This is the complete 8 volume Pedro Carvalho series 1. This is the first groundbreaking Pedro Carvalho set that changed all the rules for Jiu-Jitsu videos. Pedro covers Sport Jiu-Jitsu and No Holds Barred fighting with 300 hundred techniques on the entire series.

Volume 4: Advanced Mount Fighting

Now you can learn the advanced mount and crossbody fighting techniques you've been looking for! These two tapes contain fighting techniques that have been traditionally taught only to the most elite competition teams in Brazil. Pedro shows you how to keep your opponent on the ground and devastate him with a barrage of head butts, strikes and finishing holds. Techniques for street, Vale-Tudo or sanctioned competition.

Volume 5: Advanced Guard Fighting

The definitive tape on fighting from the guard! Learn the real way to keep your opponent in the guard, closed or open, and deliver the most advanced submissions you will ever see! This tape contains techniques the others don't know or simply will not take the time to teach.
Fighters
Instructor
Category
Duration (approximate)

Pedro Carvalho

36 minutes

Date Added:
12/12/2010
Production Year:
Format:
DVD
There are currently no member reviews. Be the first to review this title.