Mario Sperry Vale-Tudo Series 1 (Disc 04)
(11)
| | |
| --- | --- |
| | Get it with a Free Trial! |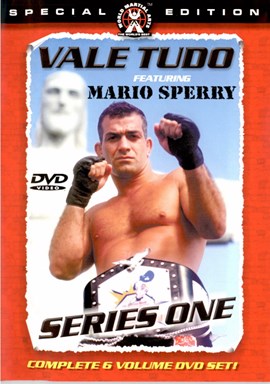 Description: This is the complete 6 DVD set of Mario Sperry Vale-Tudo series one. Considered to be the most technical fighter to have ever stepped into a ring, Sperry smashes all barriers of secrecy and knowledge of what it takes to win in the street or Octagon. This series is not just another Jiu-Jitsu video series showing moves without a uniform. Instead, it's a complete fighting style, drastically different and 100% more effective in a real fight than anything you have ever seen before! Mario Sperry Vale-Tudo will teach you every aspect of no-holds-barred fighting from standing techniques to brutal ground finishing strikes & submissions. This Vale-Tudo DVD series also contains live action footage of Mario Sperry in action. See the legendary Zen Machine do the very same moves in real fights as he teaches in this incredible video series! View all six titles and their video clips that come in this six DVD set below.

Volume 4: The Vale Tudo Mount

Forget everything you know about the mounted position! Mario Sperry will teach you a whole new incredible method as you learn why the mount position taught in sport style Jiu-Jitsu schools will not work as planned in the street! Are you having trouble staying mounted on big opponents You won't any longer as Mario Sperry shows how to put a quick stop to all escape attempts that will render your opponent frustrated and desperate. You will learn how the mounted position was really intended to be used as Mario teaches you special techniques to wear your opponent down making submission holds easy to apply. Mario Sperry's striking techniques from the mount are so incredible that it is worth the price of the entire set of videos alone! Also included: Mario Sperry in action!



Fighters
Instructor
Category
Duration (approximate)

Mario Sperry

44 minutes

Date Added:
12/03/2010
Production Year:
2005
Format:
DVD
There are currently no member reviews. Be the first to review this title.