Mario Sperry Vale-Tudo Series 1 (Disc 03)
(14)
| | |
| --- | --- |
| | Get it with a Free Trial! |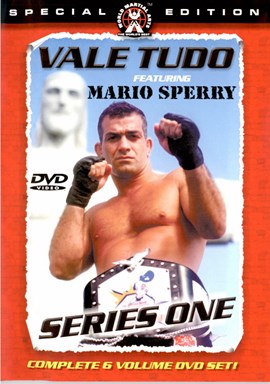 Description: This is the complete 6 DVD set of Mario Sperry Vale-Tudo series one. Considered to be the most technical fighter to have ever stepped into a ring, Sperry smashes all barriers of secrecy and knowledge of what it takes to win in the street or Octagon. This series is not just another Jiu-Jitsu video series showing moves without a uniform. Instead, it's a complete fighting style, drastically different and 100% more effective in a real fight than anything you have ever seen before! Mario Sperry Vale-Tudo will teach you every aspect of no-holds-barred fighting from standing techniques to brutal ground finishing strikes & submissions. This Vale-Tudo DVD series also contains live action footage of Mario Sperry in action. See the legendary Zen Machine do the very same moves in real fights as he teaches in this incredible video series! View all six titles and their video clips that come in this six DVD set below.

Volume 3: Crossbody and Knee on Stomach

Mario Sperry delivers the techniques you have been looking for! Prepare to learn a whole new method of Jiu-Jitsu that you never thought existed! We guarantee that the techniques taught in this video are far more powerful then anything you have ever witnessed. Mario Sperry will show you how the cross-body should be used for the street and why sport style cross-body techniques are dangerous. You will learn to easily finish the fight from this position with devastating strikes and submissions that will amaze you! You will also learn how to properly use the most powerful and highly misunderstood position in Jiu-Jitsu, the knee on stomach! Here Mario Sperry will teach you a whole new style of Jiu-Jitsu that will give you a new arsenal of weapons never thought possible! Don't be confused with other tapes showing sport style moves without the uniform. This tape contains a fighting style never seen before that will enable you to easily defeat all other styles of grappling and handle any opponent in a real fight!
Fighters
Instructor
Category
Duration (approximate)

Mario Sperry

58 minutes

Date Added:
12/03/2010
Production Year:
2005
Format:
DVD
There are currently no member reviews. Be the first to review this title.