Ultimate Takedowns by Jackson and Vanarsdale 04
(21)
| | |
| --- | --- |
| | Get it with a Free Trial! |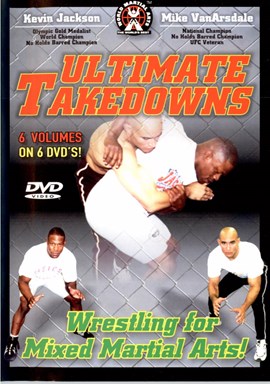 Description: This new video release staring Olympic Gold Medalist Kevin Jackson and NCAA wrestling superstar Mike Vanarsdale will teach you everything you need to know about takedowns and defending takedowns. No matter what style you practice, Brazilian Jiu-Jitsu, no holds-barred or traditional martial arts, this video series is a must. This video series contains the techniques and counters that wrestlers don't want you to learn!

Volume 4 - Throws & Foot Sweeps
Kevin Jackson and Mike Vanarsdale really pick it up in this tape. This tape concentrates on wrestling throws and sweeps. Learn proper foot work and body position to set throws up! Learn effective over and under hook throws and hip tosses, headlock throws and multiple variations, including the devastating double under hook headlock throw. Learn the theory of foot sweeps and how to set them up. Includes many foot sweep and their variations. Also includes arm throws, arm spins and many, many more. An excellent video for mixed martial arts fighting!
Fighters
Instructor
Category
Duration (approximate)

Kevin Jackson

51 minutes

Date Added:
06/11/2010
Production Year:
2006
Format:
DVD
There are currently no member reviews. Be the first to review this title.