Ultimate Takedowns by Jackson and Vanarsdale 03
(23)
| | |
| --- | --- |
| | Get it with a Free Trial! |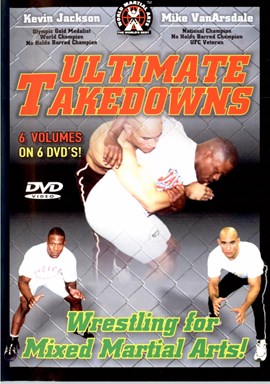 Description: This new video release staring Olympic Gold Medalist Kevin Jackson and NCAA wrestling superstar Mike Vanarsdale will teach you everything you need to know about takedowns and defending takedowns. No matter what style you practice, Brazilian Jiu-Jitsu, no holds-barred or traditional martial arts, this video series is a must. This video series contains the techniques and counters that wrestlers don't want you to learn!

Volume 3 - TakeDowns Part 2
Learn more advanced takedowns like double legs, advanced singles and much more. Learn the important under over fighting method and advanced counters and set ups into takedowns. This tape also teaches multiple finishes to each takedown. You will also the high crotch takedown series and more. Learn the arm drag theory and arm drag takedowns. Multiple fakes, tricks and advanced techniques. This is Olympic level technique at its best. This is the most advanced work ever produced on takedowns for martial arts, submission grappling or no-holds-barred fighting!
Fighters
Instructor
Category
Duration (approximate)

Kevin Jackson

51 minutes

Date Added:
06/11/2010
Production Year:
2006
Format:
DVD
There are currently no member reviews. Be the first to review this title.