Ultimate Takedowns by Jackson and Vanarsdale 02
(26)
| | |
| --- | --- |
| | Get it with a Free Trial! |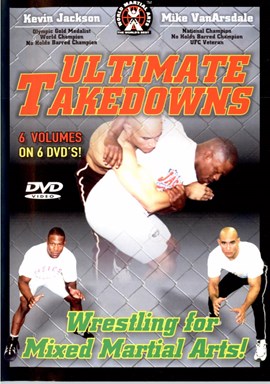 Description: This new video release staring Olympic Gold Medalist Kevin Jackson and NCAA wrestling superstar Mike Vanarsdale will teach you everything you need to know about takedowns and defending takedowns. No matter what style you practice, Brazilian Jiu-Jitsu, no holds-barred or traditional martial arts, this video series is a must. This video series contains the techniques and counters that wrestlers don't want you to learn!

Volume 2 - TakeDowns Part 1
This tape starts with basic and powerful takedowns like double leg takedowns, heel picks, head inside singles, low singles, front and back side finishes. All takedowns are explained with extreme detail, giving you a solid understanding on these moves. This tape also concentrates on how to use take downs in a no- holds- barred situation. Learn how to close the distance in NHB fighting as your are shown how to take your opponent down, avoiding punches and kicks. The first time ever this material has been shown on an instructional video.
Fighters
Instructor
Category
Duration (approximate)

Kevin Jackson

50 minutes

Date Added:
06/11/2010
Production Year:
2006
Format:
DVD
There are currently no member reviews. Be the first to review this title.