Half, Inside Hooks and Downed Guards For MMA
(47)
| | |
| --- | --- |
| | Get it with a Free Trial! |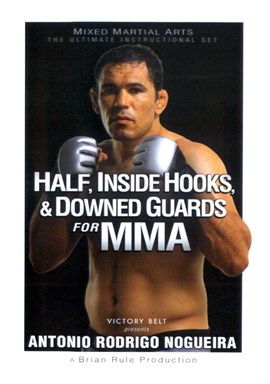 Description: Over the course of his legendary Mixed Martial Arts career, Antonio Rodrigo Nogueira developed the most effective, feared, and celebrated ground fighting system in existence. While climbing to the top of the MMA mountain, he used this system to not only defeat a host of the world's top fighters, including Mark Coleman, Mirco 'CroCop' Filipovic, and Tim Sylvia, but also claim title belts in Rings, the Pride Fighting Championships, and the Ultimate Fighting Championship - the triple crown of MMA.

In HALF, INSIDE HOOKS AND DOWNED GUARDS FOR MMA, Rodrigo unveils proven systems for each of these respective guard positions, teaching the dozens of unstoppable sweeps, crafty escapes, and bone-breaking submissions that they yield. Unlike most DVDs, HALF, INSIDE HOOKS AND DOWNED GUARDS FOR MMA is not a collection of random moves - the techniques flow together with purpose, allowing you to capitalize on all your opponent's defensive reactions. More than twenty years in the making, this DVD will dratically improve the ground game of any fighter who studies it.
Fighters
Instructor
Category
Duration (approximate)

Antonio Rodrigo Nogueira

150 minutes

Date Added:
09/05/2009
Production Year:
2009
Format:
DVD
There are currently no member reviews. Be the first to review this title.