Cage Rage 16 (PAL): Critical Condition
(1)
| | |
| --- | --- |
| | Get it with a Free Trial! |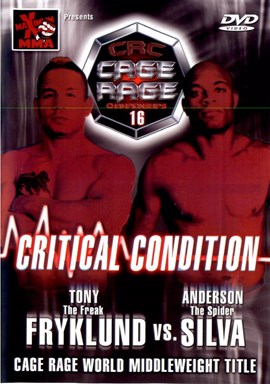 Description: It's the sport of the future! Where little protection is used and the best protection you can have is to be better than the next man. Knees, elbows, punches, kicks, chokes, locks, it's all full contact and all very real. So many ways to win but just one mistake and you could lose. These modern day gladiators put in years of training, hours and hours of hard work before every fight. And you need it because 3x5 minute rounds are like hell when anything goes. But what makes a man step into the cage, pride, the rush or to test himself to the limit. No one knows except him, only when the bell goes does the test of wits, strength and endurance begin. Some say it's in the mind but most of the cage fighters say just... BRING IT ON... This sport makes boxing look like a tea party.

Fighters
Instructor
Category
Duration (approximate)

216 minutes

Date Added:
06/20/2008
Production Year:
2006
Format:
DVD
There are currently no member reviews. Be the first to review this title.