Pressure Passing System (Disc 4)
(4)
| | |
| --- | --- |
| | Get it with a Free Trial! |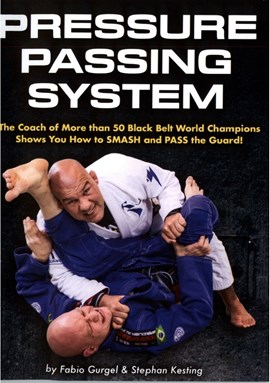 Description: Disc 4: Guard Pass Strategies.

Rubens 'Cobrinha' Charles - "If you're looking to take your guard passing to the next level I highly would recommend Fabio's guard passing methods. Using Fabio's guard passing methods helped me taking my guard passing to the next level since I was a guard player. Do you want to take your guard passing to the next level? If so, do not miss the opportunity to learn from the best guard passing methods developed by Fabio Gurgel!"

Bruno Malfacine: "I have no doubt that what really makes me a different competitor is absorbing and adapting Fabio Gurgel's knowledge and teaching into my game. I find that many people are surprised by my top pressure game, but it all makes sense when they remember to whom I learned from. I'm 100% sure that this instruction is going to take people's games to the next level. And I'm not talking only about the big guys, but also the small guys like me, who will benefit a lot, just like I did"

Lucas Lepri: "Learning from Professor Fabio Gurgel made my game more precise. Besides teaching the technical parts, Fabio explains and simplifies the concepts of how to connect from one position to the other. By making it easy to understand he will put your guard passing game to the next level"

Leo Nogueira: "Fabio has been training in Jiu-Jitsu since the age of 13 years old. He is an exceptionally rare breed of Jiu Jitsu enthusiast, being both a decorated and respected World Class competitor as well as a highly sought after and truly gifted Instructor. Known as one of the most technical fighters of his generation, Fabio leverages his strong knowledge of the core foundational principles of Jiu Jitsu along with his exceptional ability to convey that information in a very profound way"

Tarsis Humphreys: "I was fortunate to start training Jiu-jitsu in 1997 with master Fabio Gurgel. Fabio has always been known for having the most efficient guard passes; once he gets his initial position then the pressure only increases and it becomes practically impossible to create space to reset the guard again. Fabio is very detailed and precise in his guard passes. I have seen several generations of Jiu Jitsu athletes become multiple times world champions because of him"


Fighters
Instructor
Category
Duration (approximate)

Date Added:
06/10/2021
Production Year:
Format:
DVD
There are currently no member reviews. Be the first to review this title.