Women Empowered - Lessons 4-6
(10)
| | |
| --- | --- |
| | Get it with a Free Trial! |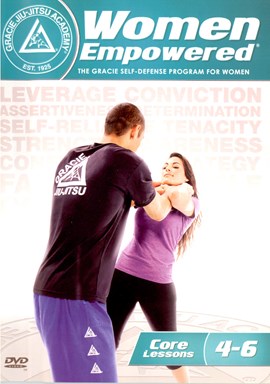 Description: Women Empowered is the Gracie Self-defense Program for Women under the direct guidance of Ryron and Rener Gracie, along with special guest instructors Sage Gracie and Eve Torres!

Core Lessons 4,5, and 6
Through correspondence with law enforcement professionals and reports submitted by sexual assault victims, we've discovered that, while the specific circumstances of each sexual assault may vary, the general attack strategies are strikingly similar in most cases. In the 10 Core Lessons, we will teach you how to escape several of the most common standing attacks, including wrist grabs, choke-holds, and bear hugs, as well as how to use strategic strikes to distract the assailant and break free. You will also learn how to use verbal assertiveness to set boundaries, and you will master the critical physical and psychological techniques that will enable you to avoid panic and escape from underneath an attacker who has pinned you to the ground in Phase 3.
Fighters
Instructor
Category
Duration (approximate)

49 minutes

Date Added:
12/11/2013
Production Year:
2011
Format:
DVD
There are currently no member reviews. Be the first to review this title.